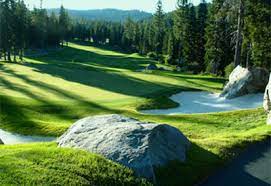 Truckee, California is 90 miles east of Sacramento, 30 miles west of Reno, and 21 miles north of Lake Tahoe. It serves as the northern gateway to Lake Tahoe and temperature-wise is 10-25 degrees cooler than Reno and 10 degrees warmer than the Lake Tahoe area. There's plenty of lodging and restaurants, a very active, western-style downtown area, and an assortment of outdoor, summer activities including rafting, mountain biking, and river rafting, in addition to miles of trails for hiking.
For golf, it's a tempting base for five high-profile golf clubs which are open to public play. Yes, it will set you back north of $150/round, but for a week of golf without a lot of travel and in a unique, small community environment with moderate temps it's hard to beat.
Here's the five in no particular order. Tahoe Donner is a Certified Audubon Sanctuary and challenging as it moves along narrow, pine tree corridors over a significant change in elevation. The front nine was designed by Roy Williams, the back by Billy Bell with a redesign by Cary Bickler.
Coyote Moon marches through a natural setting along towering pines, granite outcroppings, and Trout Creek bordering the fairways, and a true shotmaker's layout where course management is rewarded over distance. The layout has wide open landing areas with only a few forced carries where approach shots funnel down to greens protected by trees, sand traps, and water hazards.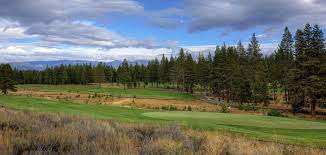 Gray's Crossing is a Peter Jacobsen/Jim Hardy design which climbs through a scenic setting along Lodgepole and Jeffrey pine tree lined fairways and over mountainous terrain bordered by native wetlands with Mt. Rose as a backdrop. It's challenging with 70+ sand bunkers in various configurations, narrow driving corridors, and sloping, quick green complexes.
Old Greenwood is the only Jack Nicklaus design in this part of Northern California. The golf course lumbers through pine tree lined fairways over rugged terrain featuring broad landing areas along isolated, unique fairways. There's the requisite, Nicklaus doglegs, water hazards, and pot, conventional, and long waste area sand bunkers along the fairways and defending the greens.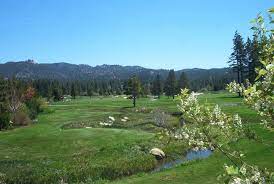 Northstar at Tahoe is below the Northstar ski slopes with two contrasting nines in a setting surrounded by the Sierras. The front is more open and links-like journeying through a valley meadow with lakes and wetlands while the backside is carved through the pine tree forests over rolling, tumbling terrain. 
Basing in the Truckee area has its advantages in the cost of lodging, proximity to quality golf courses, and within 30 minutes of either Lake Tahoe or Reno.