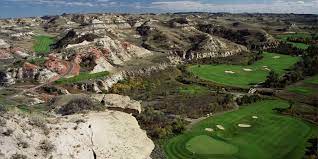 Bully Pulpit Golf Course is located on the far western border of North Dakota. It's located near the town of Medora home to less than 200 people, but a major tourist destination. It's near the Little Missouri National Grassland and Theodore Roosevelt National Park on the northwestern border of the Badlands.
Medora is located 330 miles west of Fargo and 280 miles east of Billings without much significance in between. Fortunately, if you're on I-94 and want to make a day of golf and sightseeing in the area, there's plenty of lodging choices.
The course was built using the existing land over a roomy 900+ acres. It's routed along a mile or more of Little Missouri riverside and the Badlands. The Badland's, described as "hell with the fires gone out," is a rugged land. On course, there's frequent sightings of wild bison and horses, bighorn sheep, antelope, mountain cats, coyotes, turkeys, prairie dogs, and snakes, so it's prudent to keep your ball in the fairway! The holes offer endless variety with those laid into open prairie lands, along the River, into the cottonwood forest with the finishing holes in the Badlands through the gorge and from butte-top tee boxes. There's five sets of tees from 4,750 to 7,166 yards, the middle tees play to 6,000 yards, 70.4/123, course/slope ratings, designed by Dr. Michael Hurdzan.